As much as I want to be glad that the Giants are 9-4 since Melky Cabrera was suspended and that they're sitting pretty with a 3.5 game lead over the Evil Western Empire Dodgers, I keep wondering what we'll do with the two headed mediocre monster of Barry Zito and Tim Lincecum.
Zito ended up getting knocked around today just one start after completely dominating the Atlanta Braves. Oh but don't worry its because he was pitching against the NL powerhouse Houston Astros.... Yeah exactly.
But at least Zito has had a few dominant games even though it seems like they are only against the Braves. Timmy hasn't strung together a couple dominant starts all year long. He's already reached his career high 14 losses that he accumulated last year and has a career worst ERA of 5.30.
I don't think there's any doubt that Cain, Bumgarner and Vogelsong deserve to be on a postseason roster, but Lincecum and Zito's spots are definitely in question.
Actually I'm ready to make them into a true 2 headed monster and use them both as back to back pitchers in the same game. I'd probably start off with Zito and then go with Lincecum in the later innings. Part of Timmy's problem all year long has been his 1st inning ERA so we just make sure he doesn't pitch a 1st inning, sound good?
Most people are disappointed that a starting pitcher that is just 2 years removed from being a World Series Hero is being thought of as a possible bullpen guy, but really if you could go ahead and find that guy I'd be happy to support his bid to be part of the postseason starting rotation. I see no more hope for Timmy to become that guy again this year. I think you usually can tell what a guy will be in the post season after about 20 starts, Lincecum's had 27 and it hasn't been all that fun.
What can't be ignored however is that Tim Lincecum has experience in the playoffs being clutch and winning big games. Besides a short lived playoff series while at Oakland where he lost, Zito hasn't really had much playoff experience. Another thing that can't be ignored is that there is no way that Zito could make this postseason roster because he simply does not do well without his normal pregame routine.
After all this debate I thought I had come to a conclusion that Zito had to be in the rotation this year and leave Lincecum in the pen, but I think regardless of what happens, the Giants need to keep Tim Lincecum in the starting rotation. If they're forced to make Timmy their 4th starter in the playoffs, then so be it. But you cannot leave this kid off your postseason roster when you know he's capable of reeling off a decent game once in awhile. Is a struggling Tim Lincecum really any worse than Jonathan Sanchez?
Then again... Zito has consistently been better than Timmy this year and are you really going to leave off the guy who's got a 10-8 record and leave the 7-14 guy in? Zito also gives you 1 more left handed starter so you can start Cain, Bumgarner, Vogelsong and Zito. Plus if you do it that way, at least you still can leave Lincecum on the roster and let him stay as a reliever and possibly a replacement starter down the line if Zito is not working out.
As you can see I am torn on this issue. Am I glad that this is Bochy's decision and not mine? Yes sir. Am I glad that the Giants have this problem? Heck no. Maybe we really should do a 2 man starter...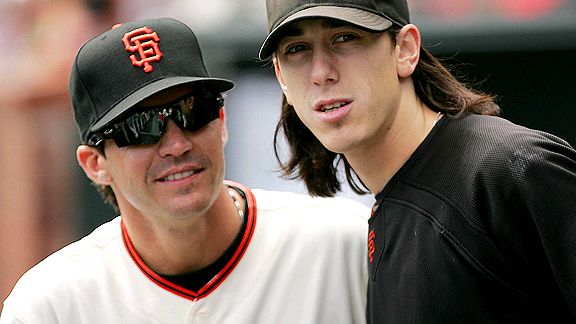 Laws of the Day
Hunter Pence hit just his 2nd homer as a Giant tonight and raised his batting average to .219.