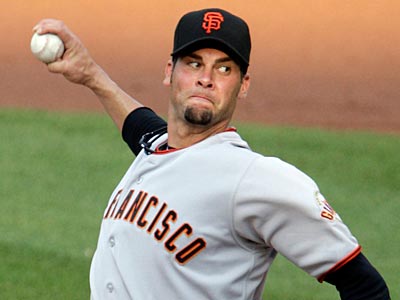 Will VogelStrong be back?
Madison Bumgarner, Matt Cain and Tim Lincecum.
That is your starting rotation as of right now.
Yes, you are correct, there are 2 names missing from that list. Job number one for the Giants' brass this offseason is to fill in those blanks.
You may have heard already that Ryan Vogelsong's $6.5 million club option was declined and a restructured deal was supposedly being worked on. Well as of now, there has been no communication between Vogelsong and the Giants and apparently both have begun looking at alternatives.
Alternatives? Sure lets have a look see... The Giants have an un-protected 14th round pick in next year's MLB draft and as such, would give up that pick if they signed any pitcher who was extended a qualifying offer. This is an absolute no-no, and thus crosses off these guys:
Hiroki Kuroda
Ervin Santana
Matt Garza
Ubaldo Jimenez
I'm not incredibly thrilled with this list anyway, and would really only consider signing Kuroda to a 1 year deal to pave the way for our youngsters Kyle Crick and Clayton Blackburn to enter the rotation in 2015.
Of the pitchers that were not extended a qualifying offer, here's the list and try not to drool:
Bronson Arroyo
Tim Hudson
AJ Burnett
Bartolo Colon
Scott Feldman
Roy Halladay
Jason Hammel
Dan Haren
Phil Hughes
Josh Johnson
Scott Kazmir
Johan Santana
This is an awesome list of "wow that guy used to be good right?" Only Josh Johnson (29), Scott Kazmir (29) and Phil Hughes (27) are under 30. And only 4 pitchers on that list finished the year with an ERA under 4 (Bartolo Colon, AJ Burnett, Bronson Arroyo and Scott Feldman).
Bartolo Colon would be an interesting choice as he would probably take just north of $10 million for 1 year and he actually had a great year, finishing 6th in the league with a 2.65 ERA and an 18-6 record. Yes he's 40 years old, but the Giants need to go home with someone in this ugly crowd and Colon is as good a choice as any.
Tim Hudson actually finished with a 3.97 ERA, but didn't qualify as he only had 21 starts last year. He's another possibility being a nice springy 38 years old.
But here's where we need Vogelsong. Do the Giants really want to sign TWO of these guys?
I'm assuming that the Giants don't end up going for broke and landing Masahiro Tanaka. When you have to outbid the Yankees, Dodgers, Cubs and a host of other teams just for the right to talk to Tanaka, I don't think the chances will be high that the Giants win that battle.
So without Tanaka, the Giants will do 1 of 3 things:
1. Sign Vogelsong and 1 old guy.
2. Sign 2 old guys
3. Sign 1 old guy and give Yusmiero Petit the 5th spot.
Here's my case for Vogelsong. As Brian Sabean put it, I think Ryan has given himself leeway for the benefit of a doubt. We know a few things about Vogelsong. He is a very consistent pitcher who attacks the strike zone. He does not shy away from the bright lights and has a World Series ring to prove it. He loves chicken enchilladas. All three reasons to love this guy.
In the last 2 months of the season when Vogey came back, he went 5-5 with a 4.55 ERA. Not great, but something to build on compared to his 7.19 ERA he had prior to getting injured. 6 of his last 10 starts were quality starts and he actually had a 2.93 ERA in August before faltering in September.
I realize I'm splitting hairs now, but my point is that Vogelsong still has enough here to warrant the Giants bringing him back for another year especially if $5 million or so is his price range. I think that the World Series coupled with his appearance in the WBC may have thrown him off and that a full offseason will do wonders for him.
So Bring Vogelsong back on a 1 year deal and THEN you can sign your old guy... or maybe just get Tanaka...
Laws of the Day
In the 2012 postseason, Vogelsong had 4 starts and went 3-0 with a 1.09 ERA with 21 strikeouts in 24 and 2/3rds innings pitched.