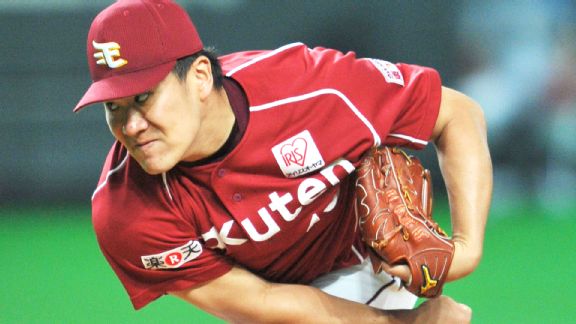 Giants want him, but can they afford him?
Jose Abreu is gone
Masahiro Tanaka is our only hope.
In fact he's every major league team's only hope at this point in possibly the worst free agent class since... well I don't even want to look it up, it's so bad.
With Tanaka probably being posted on November 1st, the Giants, Yankees, Cubs, Dodgers, Blue Jays, [Insert Team Here] are all interested in making a bid and paying probably upwards of a $60 million posting fee in order to sign Tanaka.
But even if we assume the Giants have the cash on hand to pay the posting fee and want to sign Tanaka, will the current payroll allow the leeway for the Giants to sign Tanaka?
in 2013, the Giants' payroll sat at $137 million thanks in large part to the 20 million dollar men, Lincecum, Cain and Zito. Timmy actually made $22 million and Cain made $20.83 million but who's counting. So with Zito leaving, the Giants had some wiggle room right? Wrong.
The Giants have already spent that wiggle room and then some with the signing of Hunter Pence to 5 years $90 million ($16 million next year) and Tim Lincecum to 2 years $35 million ($17 million next year). In addition, there are numerous raises and contract structured raises that contribute to more money on the payroll.
Here are a few examples of guys getting back loaded raises in their contracts:
Angel Pagan - $8.25 to $10.25 mil
Pablo Sandoval - $5.7 to $8.25 mil
Madison Bumgarner - $950K to $3.95 mil
Sergio Romo - $3.5 mil to $5.5 mil
Buster Posey - $3.77 mil to $11.27
With some rough calculations and adding what Hunter and Timmy are making next year the Giants are hovering around a possibly $127 million payroll and that's not including Javier Lopez, Ryan Vogelsong and a 5th starter.
Lopez made $4.25 million last year and will probably command something similar to re-sign. Vogelsong made $5 million last year and had a $6.5 million option which the Giants may forego and try to sign him to a cheaper incentive laden deal.
If the Giants end up getting both for a combined amount of $10 million, the payroll is at $137 million again, and the Giants are without a 5th starter and without an upgrade at left field.
So all this comes back to Masahiro Tanaka.
Do the Giants have enough to pay Tanaka? Well if they wanted to keep close to last year's payroll, that would be a big no. But if the Giants are willing to stretch into the $150-160 million range, then it's possible that Tanaka who would probably get a contract with an AAV of around $10 million per year in addition to that ridiculous posting fee.
If that does happen, the Giants would probably reduce their left fielder search to aging veterans who could platoon with Blanco or try to make a trade using lower to mid level prospects.
No, I do not see any of this happening. As much as I want Tanaka in this starting rotation, the Giants are not going to be able to compete with the Yankees and the Dodgers in the "Look How Much Money I've Got" Sweepstakes.
But, just for kicks, just look at this... and dream
Madison Bumgarner
Matt Cain
Masahiro Tanaka
Tim Lincecum
Ryan Vogelsong
Laws of the Day
Tanaka went 24-0 last year in 28 starts with a 1.27 ERA in the NPB.