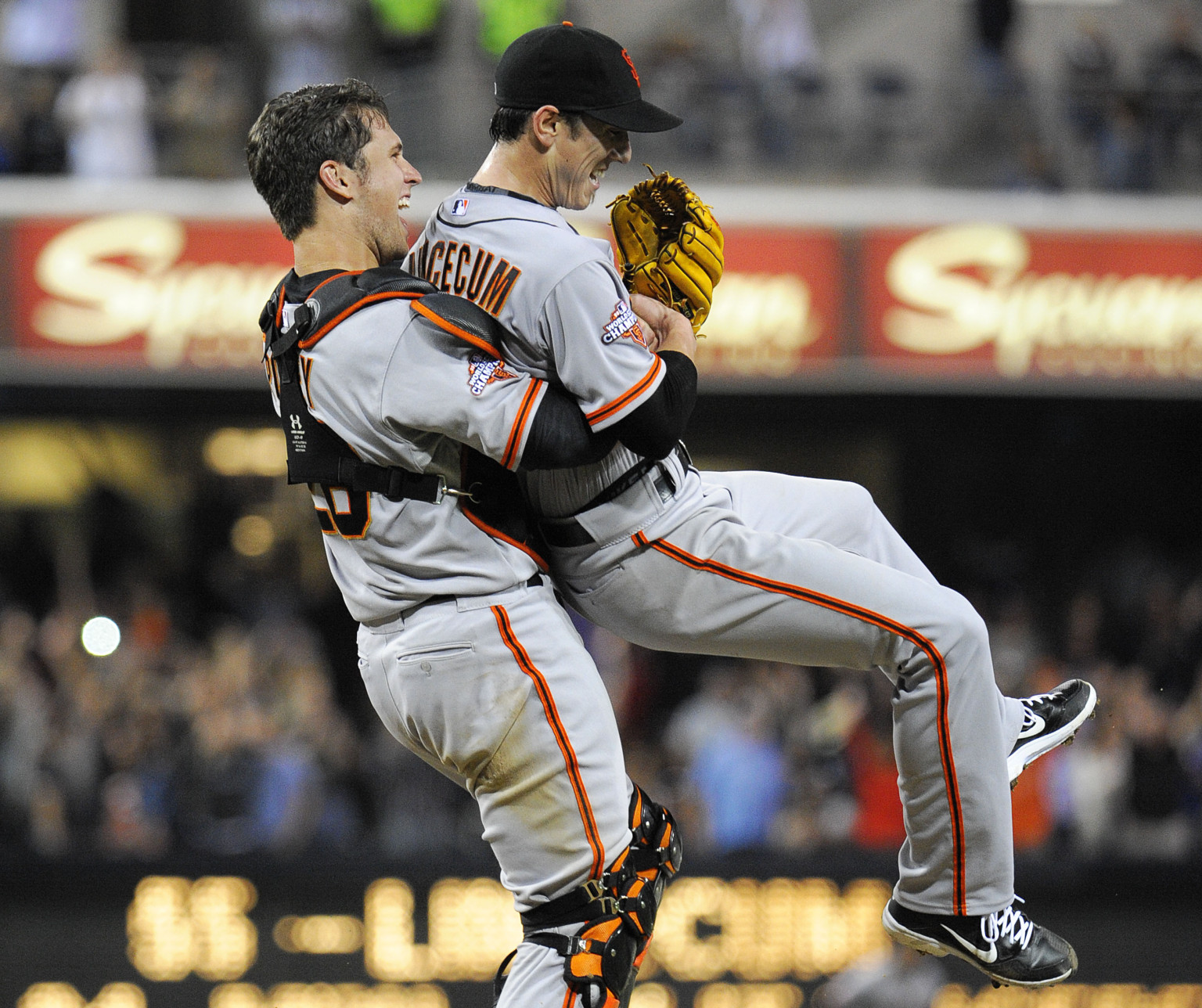 Buster Hug! Timmy's Back!
The Giants spared us this possible defeat this offseason by re-signing Tim Lincecum to 2 years and $35 Million dollars. It's hard not to combine those two news bits together, but lets try to separate them.
First: Timmy's Back!
Sound the trumpets! roll him his favorite blunt, break open the chocotacos!
Second: We got him for 2 years and $35 million dollars (chocotacos go for 3 for $4 so about 26,250,000 chocotacos)
First of all, I don't even know if you can qualify yourself as a Giants fan if you're not happy for the simple fact that Timmy's back. Timmy has become the face of this franchise and although his star power has been recently overshadowed by the rising superstar Buster Posey, he's done so much to make Giants fans proud over the years.
2 Cy Youngs, 2 World Series rings, 4 All Star Team selections. He's done it all for this team, so who would want to see him wearing Dodger blue next season? Or even Yankee pinstripes. It's a thought unimaginable.
Secondly, and what I'd truly like to address is the money.
$35 million over 2 years, it's like Timmy only got a slight pay cut for his two awful regular seasons which sandwiched an excellent postseason in which he acted as the Giants' bullpen savior. So how can I possibly make baseball sense of this?
We start with the qualifying offer which this year was set at $14.1 million. If the Giants had wanted to make a qualifying offer to Lincecum and wanted to keep him for at least 2 years also, they could've gone a minimum of $28.2 million.
Once we start at the qualifying offer you have to consider that although Timmy hasn't really been Big Time Timmy Jim in awhile, he also hasn't been that bad once he started to pitch rather than throw. Over the course of the last 2 months of the season Timmy went 5-3 and the Giants were 7-4 in those starts.
In those 11 starts, he had 4 starts where he pitched at least 7 innings and allowed 2 runs or less. The so-called "super" quality start.

The point is, although Timmy had yet another sub-par season for him, what we saw was that he learned how to use what he has rather than yearn for what he doesn't. Instead of trying to blow past guys with a 92 mph fastball, he's locating a 90 mph fastball, he's throwing his slider for strikes, and only sneaking in his changeup when he absolutely can get a strikeout.
In many ways Timmy is more of a pitcher now than he was in 2009 when he won his last Cy Young award.
But $35 MILLION!?! I know I know... the stats I just provided probably qualifies Timmy for a full $30 mil over 2 years not $35. But here's where the market comes into play.
Here are the top free agent pitchers that the Giants could have gone for:
Hiroki Kuroda - 38 years old
Bronson Arroyo - 36 years old
Bartolo Colon - 40 years old
See where I'm going with this? Even with his struggles to become a real pitcher, Timmy is still only 29 and has an upside possibility even after the 2 year contract is up.
With all the teams clamoring for a free agent starting pitcher this winter, Lincecum would garner more than his fair share of attention and you might be looking at a possible $36 million contract offer on the open market.
The Giants had 3 starting pitching slots to fill and could not watch Timmy go to another team and then face the grim free agent market only to get a pitcher who might be marginally better than Timmy and about a decade older.
In fact, the Giants might not even be done, and might have to think about grabbing one of those aging free agents to fill up the 5th spot in the rotation. But at least the option is available that we simply go into camp with a battle for the 5th spot between minor leaguers like Yusmeiro Petit and Eric Surkamp.
If Timmy had signed elsewhere there would've been no choice but to go into a bidding war over Bronson Arroyo.. do you really want that? really?
Lastly, the Giants obviously had a marketing standpoint in all of this and there are plenty of Tim Lincecum jerseys to sell in the Giants Dugout Store. And regardless of how he plays, we all know that people come to games to watch Timmy pitch. As good as Madison Bumgarner was this past season, I have not heard one person tell me they went to game specifically to watch Bumgarner pitch.
Timmy is excitement, Timmy is intrigue... and for two more years at least, Timmy's a Giant
Laws of the Day
Although it is down from previous years, Lincecum still managed 8.78 strikeouts per 9 innings last year, 76 walks this year compared to 90 in 2012, pitched 11 more innings in one fewer starts than 2012 and oh yeah, he had a no-hitter too.