Giants Eye Emergency Starter Options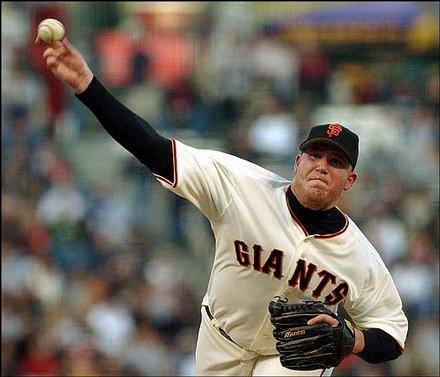 Sidney Ponson as a Giant in 2003
In 2003, the Giants were fresh off a World Series loss and looking to return again with much of the same core. Russ Ortiz had been traded to the Braves for up and coming rookie Damian Moss and Livan Hernandez was gone, so the Giants' rotation had guys like Kurt Ainsworth and Jesse Foppert starting games. Names I'm sure who will stand the test of time along with the rest of the Giants' greats...
Ainsworth ended up hitting the DL, Moss had a terrible season and Foppert ended up undergoing Tommy John surgery in September of that year.
All this played into the storyline as the Giants looked to add a starter to help back their impressive lineup anchored by Barry Lamar Bonds and hopefully get them back into the World Series.
The search ended when the Giants acquired Sidney Ponson by trade from the Orioles for Ainsworth, Moss and Ryan Hannaman. At the time, Sidney was sporting a 14-6 record on July 31st with a 3.77 ERA. He was going to be plugged in as a possible 2nd starter behind Jason Schmidt, and along side Kirk Rueter and Jerome Williams to help solidify a rotation that didn't need to do too much as the Giants were 68-40 on July 31st even without Ponson.
By the way, if you want your daily "this date in Giants' history," the G-men were 42-28 on June 18, 2003. Hardly a team in turmoil like this one is.
Back to Ponson, this was a very different Giants team that needed a starting pitcher to solidify the rotation and create some stability rather than switching from one band aid to the next. What Ponson ended up doing as a Giant did not qualify.
Ponson ended up starting 10 games for the Giants that year, and went 3-6 with a 3.71 ERA. The Giants went on to face the Marlins in the National League Division Series, and lost to the FLORIDA Marlins in 4 games. Ponson lost in his start in Game 2.
Sure it's easy to say that the Giants failed in this conquest and should never have traded for Ponson. But it's also easy to see that the price was just about right. All the players that were traded for Ponson never amounted to much in the major leagues. Ainsworth and Moss both did not last long in the big leagues and Hannaman never ended up cracking a big league roster.
Fast forward 10 years and we're in a similar boat. The Giants' usually rock steady starting rotation is in flux. Ryan Vogelsong is injured and will come back after the All Star Break. Tim Lincecum is no longer the same pitcher that we loved a few years ago. Even if Vogelsong comes back 100% healthy, there is no guarantee that he will return to form, as he only really had one good start prior to getting injured.
That brings us to the starters who would be the Sidney Ponson of this generation. Bud Norris of the Astros, and Ricky Nolasco of the Marlins. Like Ponson in 2003, both of these guys are solid starters who play for terrible teams.
Nolasco is currently 4-7 with a 3.61 ERA and Norris is 5-7 with a 3.64 ERA. Neither option seems particularly appealing and likely wouldn't be too much of an upgrade from a struggling Tim Lincecum, but it would allow the Giants to put Lincecum in the bullpen so that he might audition for a bullpen role when he becomes a free agent.
The problem with Lincecum is that once in awhile he'll have a very good start and you begin to think he'll come out of this, and that maybe, just maybe he's figured out a way to pitch using the weapons he does have. That "once in awhile" start is the only thing keeping Timmy in a starting position on this team.
The Giants really have no other options in-house to solve the starting pitching woes and the Norris' and Nolasco's of the world are starting to look more and more enticing as the season goes on. But with history doomed to repeat itself, maybe the Giants need to chalk this season up to a World Series hangover year, much like 2011 was, and not make any rash trades for average pitchers on terrible teams.
If the 2003 Giants team was doomed with or without Ponson, maybe the 2013 Giants are doomed with or without a new starter also.
Laws of the Day
Sidney Ponson signed with Baltimore thein 2004 and went 11-15 with a 5.30 ERA. 2003 was the only year he recorded more wins than losses in a season.