Pablo Sandoval did not deserve an All Star start, Matt Cain did not deserve to be the NL All Star starting pitcher and the Giants did not deserve to have 4 out of 9 starting players in the 2012 All Star Game.
Wanna know what the Giants did deserve?
Pablo Sandoval DOES deserve to hit the first bases loaded triple in all star game history.
Matt Cain DOES deserve the All Star Game win.
Melky Cabrera DOES deserve the 2012 All Star Game MVP
and he deserves that brand spankin new Chevy Camaro too...
***
In a great way to let us all forget how the Giants limped into the All Star Break, we were given a show by our All Star Giants in an 8-0 drubbing of the AL All Stars.
For all the questions and ripping leading into this All Star Game about how Giants fans stuffed the ballot boxes and got undeserving players in as starters, the Giants showed their appreciation by blowing up the American League All Stars with a 5 run 1st inning and 2 shutout innings from Matt Cain.
Even after the win, the ESPN talking heads were having trouble giving the Giants all the credit for the win. Giants accounted for 5 RBIs 4 Runs and 2 shutout innings of the 8-0 win and ended up being the most lopsided win for the National League in All Star Game history.
Lets not forget that Buster Posey also contributed to this win, he drew a walk, scored a run and caught the first five innings of the All Star Game that happened to be 5 shut out innings with 4 different pitchers.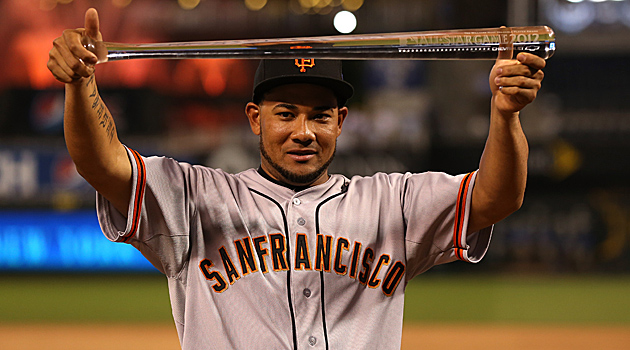 Laws of the Day
1973 - Bobby Bonds won the All Star MVP the last time the All Star Game was hosted in Kansas City
Numbers for the Snubbed?
3B David Wright - 0 for 2
CF Andrew McCutchen - 1 for 2 no RBIs
C Carlos Ruiz - 0 for 1
SP R.A. Dickey 1 inning 1 hit 1 strikeout